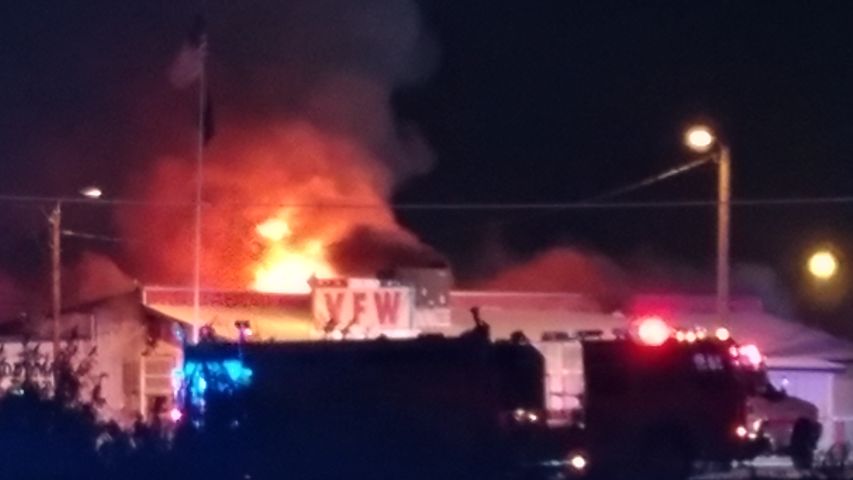 Veterans of Foreign Wars Post 7061, 516 Hopi Avenue, caught fire and burned the morning of Sunday, May 26. The structure is a total loss. Post Commander John Maye said they will rebuild, as there has been a VFW Post on that site since 1945.
Maye said the fire started around 3:30 to 4 a.m. in the kitchen area. It quickly spread to the spaces between the multiple ceilings in the building. Firefighters were not able to get the blaze out until 8 a.m.
Firefighters from the Parker, Colorado River Indian Tribes and Buckskin Fire Departments responded to the fire. Some firefighters stayed on the scene after the fire was out in case it flared up again.
VFW Post 7061 is known for being active in the community. Along with the Freeman H. Sharp American Legion Post 70, they co-host veterans events at the Parker Cemetery on Memorial Day and Veterans Day.
Maye said the post will rebuild. He added there's been a VFW post in Parker for 74 years. He said they have a firm lined up to demolish the burned-out facility, and they've already been contacted by people who want to donate towards a new facility.
If you would like to make a donation to help rebuild this historic Post:
Make your checks payable to-
VFW Post 7061
PO Box 3667
Parker, AZ 85344
---------------------------------------------------------------------------------------------------------------------------------------------
We here at the VFW are dedicated to supporting Veterans and the community, but we can't do it alone. Your assistance helps us help those who are most in in need. To make a tax deductible donation to our efforts, please use the donate button below. Thank you for your generous support. We are a 501(c)19 (EIN #86-0076886)

------------------------------------------------------------------------------------------------------------